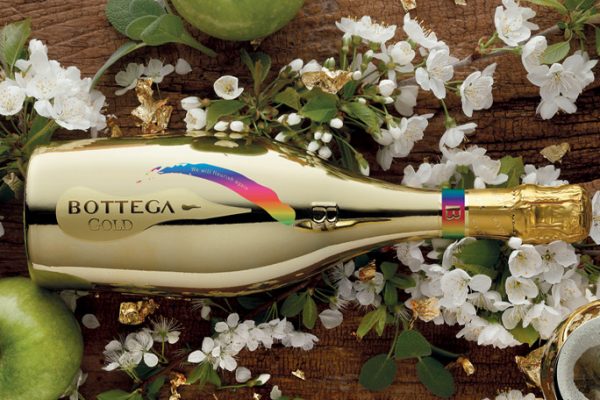 Bottega Gold: Limited Edition Rainbow
29 May 2020
The Bottega company, winery and distillery in Bibano di Godega (TV), has created a limited edition rainbow Magnum version of the iconic Bottega Gold, the Prosecco Doc characterized by the golden bottle.
The limited edition product was created to convey a message of hope and a wish for an early exit from the global emergency that has heavily marked recent months. The bottle, made in only 500 pieces, is characterized by a rainbow strip, which bears the words "We will flourish again". Even the band, placed immediately under the capsule, is embellished with the colours of the iris, thus contributing to highlight the uniqueness of the product.
Bottega Gold is characterized by a Prosecco of great aromaticity and by the bottle with its unmistakable golden livery, made with an exclusive metallization process, thanks to which the gold colour becomes an integral part of the external surface of the glass. Distinctive and original, it has become an icon of taste appreciated worldwide as an expression of the best Made in Italy. Several attempts at imitation have further strengthened its success, helping to spread its notoriety.
Bottega Gold is a Prosecco Doc Brut, obtained from the vinification of Glera grapes from Valdobbiadene. This area is located near the Veneto Prealps and is characterized by a perfect climate for this indigenous grape variety. The vineyards are located in a hilly area, in a territory of absolute landscape value and great winemaking tradition. The grapes are harvested by hand and then gently pressed in the cellar. The must thus obtained is kept in steel containers at a low temperature, in order to preserve its freshness. Fermentation follows in autoclave for almost 40 days at a controlled temperature of 14-15° C with the addition of selected yeasts (Charmat method).
The wine, from an organoleptic point of view, is characterized by a strong fruity scent of apple, pear and exotic fruit and a fresh taste with a dry and fruity aftertaste. Perfect as an aperitif, it lends itself well to the preparation of tasty cocktails (Bellini, Rossini). It is also a sparkling wine for the whole meal: from hors d'oeuvres, to first courses of any kind, to fish main courses.