Prosecco & Champagne: a comparison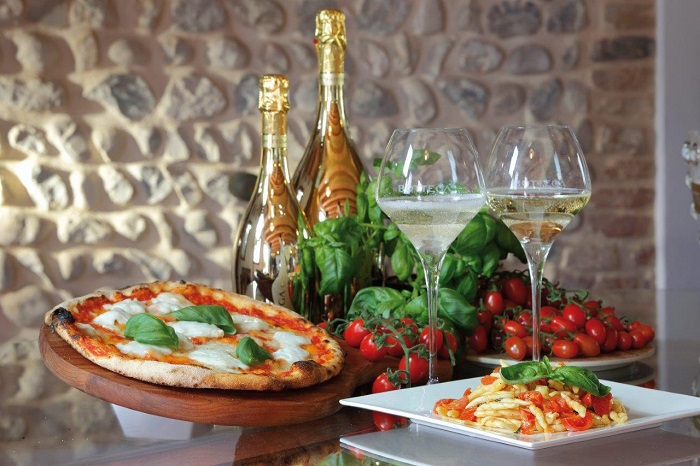 Prosecco and Champagne are among the most renowned wines in the world, nevertheless, their main characteristics are not known to everyone.
The two products firstly differ for area of production. In fact, Prosecco is cultivated in Italy in the Veneto and Friuli region, protected by the DOC and DOCG designations. On the other hand, Champagne is produced in the French region of Champagne, located in the North of the country, between the cities of Reims and Épernay.
Prosecco is mainly produced with the Charmat Method, also known as Martinotti Method, which foresees the vinification and second fermentation in stainless steel pressure tanks. The grape used to produce this wine, is Glera. Other grape varietals can be used in minor quantities; examples are Perera, Verdiso or Bianchetta
Champagne is produced exclusively with the Champenoise Method, or Classic Method, where the wine undergoes the second fermentation directly in the bottle. The longer the wine stays in direct contact with the yeast in this phase, better the quality of the final product. This French sparkling wine is produced with Chardonnay, Pinot Noir and Pinot Meunier grapes. All three or just a few of these varietals can be used.
Another substantial difference is taste.
Prosecco is fresh and aromatic, with notes of apple, pear, peach, apricot and white flowers. It is a light and versatile product. On the other hand, Champagne tends to give a more intense and rich sensation in the palate, with complex secondary aromas and a typical fragrance of bread crust.
Bottega decided to send a bottle of Prosecco Gold and a bottle of Champagne, along with Grana Padano cheese, to a number of international journalists, asking them to compare and evaluate which wine is the best pairing to complement Italian food.
We are convinced that both are great wines, yet very different and thus best fit for specific foods and distinct occasions.
Our aim is to introduce and allow people to appreciate the unique and unmistakable characteristics of Prosecco: fresh, light and versatile taste! These peculiar elements make Prosecco a sparkling wine suited for every occasion and that can be enjoyed every day. To this extent, it represents perfectly the Italian Style. Its simplicity and elegance embody the values and lifestyle of Italy, that of conviviality and sophistication. During the past years, these traits made it possible for Prosecco to become the most known and acclaimed sparkling wine in the world.
Press Comments
"The Gold Prosecco has done better for me. He has a sparkling content and impresses with its floral notes. He is rounder and drinks better … Congratulations to this good bottle. "
–  Mario Stäheli, Switzerland
"Champagne [unrevealed brand] NV: Mid-gold colour with exuberant bubbles and a frothy cordon; nose is rich with biscuit, nuts and toast and a mineral-chalk note overlying 'bruised' golden apple fruit; palate is quite light-bodied, Brut-style with very crisp acidity (almost 'sharp'), brittle mousse texture. Slightly phenolic and rather linear wine that finishes with modest length. *+ (on a *** scale) Not easy to drink on its own, but very popular, globally.
Bottega Gold: Pale lemon-green hue with persistent small bubbles and a narrow cordon; delicate aromas showing green apple, apricot, white flowers and a hint of limestone; palate is pretty, fruit-dominated, light-bodied, with good freshness balancing the moderate sweetness and an herbal note giving added interest. Finishes mid-length with zest and fruit. Very pretty wine. **+ (on a *** scale) Easy-drinking, crowd-pleaser.
With the foods:
[…] [Prosecco] was delicious with the Grana Padano, the gentle yeast and creamy texture and lemon custard accent in the wine bringing out a hint of white mushroom in the cheese.[…]
All tasters agreed that the two wines are very different and would appeal to different audiences (at different price points!) and, especially, at different times. Most likely, confirmed sparkling wine consumers would have both styles in their drinking repertoire (and should!)
[…] A recommendation came out that Prosecco as a style could (and, I believe is) differentiating different styles and qualities. It was also pointed out that Prosecco really could promote itself as a wine to pair with food, not simply as a quaffable aperitif."
– Tasting Notes by Patricia Crosby Stefanowicz MW AWE BSc(Hons) MArch et alia – (Summary)
"The whole subject of sparkling wines and pairing with foods […] is quite an interesting and still very much uncovered territory […]. A parcel soon arrived on my desk that contained a bottle of Bottega Gold Brut Prosecco DOC with a standard bottle of […] Champagne along with a decent wedge of Grana Padano cheese. […]
Here is what I found: Bottega Gold: "Young and vibrant yellow fruit aromas. Taste gives you a young and lively sensation of subtle yellow / tropical fruits with a lemon zest and floral length." Cheese & Prosecco: "The Prosecco flavours are quickly absorbed by the cheese. The oily texture from the cheese disappears to leave a clean cheese flavour to be enjoyed." […]
So what is the conclusion? […] Prosecco with its Charmat method can certainly pair with foods just as well as traditional method sparkling wines such as from its close neighbours in Italy of Trento and Franciacorta. Though most Prosecco will not be aged more than a few months and last more than a couple of years, the popularity to explore the ageing possibilities grow and Bottega as a label are keen to lead the positive trend in this area."
– Christopher Walkey, Glassofbubbly.com, UK
"Matching wine with cheese is a much trickier matter than most people think. There are several really horrible pairings! Champagne needs a rather chalky, creamy style of cheese – Chaource is a perfect example. Prosecco, which is usually sweeter, can cope well with high-quality, high-protein cheeses such as Grana Padano or Parmesan. That was certainly the case for the Bottega Gold, a wine with delicate, balanced sweetness and good perfume."
– Charles Metcalfe
"High quality Prosecco can be a great match for high quality food!  Bottega Gold and artisan Grana Padano make a terrific pairing, the nutty creaminess of the cheese going beautifully with the apple, pear, citrus & herbal notes of the Italian sparkler."
– Robin Goldsmith, thewritetaste.co.uk
"One can't straightforwardly compare the two wines, coming as they do from different climates, different soils, different grape varieties, and different winemaking. What they have in common is that they are rightly regarded as celebratory wines, and as such packaging is really important. Certainly the bright fruity character of the Bottega Gold makes it a fun pair with the Grana Padano. It's a wine to enjoy in its vibrant youth, to drink by itself and with food.  I wouldn't tie Prosecco down to matching just Italian food, though, just as I wouldn't tie Champagne down to matching French food.  Both are adaptable wines, suited to different occasions"
– Sarah Jane Evans MW
"With great curiosity I proceeded to the comparative tasting between Prosecco Bottega Gold and the Champagne you sent me. My reflection came to the conclusion that the Glera grape variety in good hands (first in the vineyard and then in the cellar), can give surprising results as in the case of Bottega Gold. Now, if the Bottega Gold has exceeded in pleasantness the Champagne you sent me, this means for me that it could certainly surpass other Champagne, but not all. The important thing is to maintain the reputation of Prosecco, with products like Bottega Gold, not only as an aperitif but also throughout the meal. In conclusion, it is good to enhance Prosecco more and more with products like Bottega Gold without wanting to replace or compare it to Champagne, because they are two different products, with a different history and culture."
– Giacomo Newlin
"Eye-catching, exuberant, blissfully easy-drinking and silky-smooth Bottega Gold Prosecco Brut NV […] is perfect for unwinding with friends and pairing melodiously with nutritious Grana Padano cheese/antipasti.
[…] Drier than most other big brand of Prosecco– but slightly less dry and also lighter-bodied than the impressive wine from the largest champagne house at this tasting – Bottega Gold Prosecco's pear element wonderfully complements a wedge of Grana Padano.
Compared to the NV Champagne, Bottega Gold Prosecco's lower acidity and somewhat less dry/more delicate profile make it a much more delightfully dazzling foil to Grana Padano, which is faintly sweeter and typically less concentrated in flavour perhaps – but no less tasty – than its pricier, umami-rich cousin Parmigiano Reggiano, 'the king of cheeses.' […]
What a revelation, Sandro! Don't miss out on this gilded prime prosecco and cheese pairing. Salute!"
– James Viner