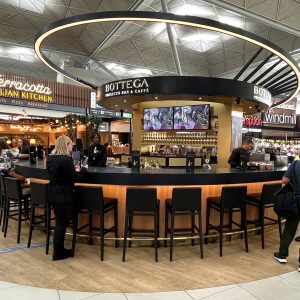 LONDON STANSTED AIRPORT: A NEW BOTTEGA PROSECCO BAR OPENS
28 July 2022
London Stansted Airport: a new Bottega Prosecco Bar opens
On 21th July 2022 a new Bottega Prosecco Bar & Caffé opened in the departure lounge of London Stansted Airport.
The premium wine bar format was created by Bottega in 2014 and it offers passengers at one of London's leading airports the opportunity to taste Bottega's still and sparkling wines. Each wine can be paired with traditional Italian food specialities creating the Perfect Match.
Bottega Prosecco Bar was born with the aim of highlighting the excellence of Italy and appealing to the palate of the consumer. The concept is inspired by the philosophy of the Venetian bacaro (an informal osteria), where food is presented in the form of 'cicheti' (appetisers to be eaten at the counter), or as substantial dishes served at the table. The combination between selected wines and food contributes to making every moment spent in a Bottega Bacaro a pleasant experience that enriches the spirit and restores the soul. Bottega Prosecco Bar reinvents this philosophy which can be reproduced anywhere in the world, beyond the confines of Venice.
London Stansted Airport is one of the fastest recovering airports in the UK and opening the Prosecco Bar in the summer peak has been a great choice.