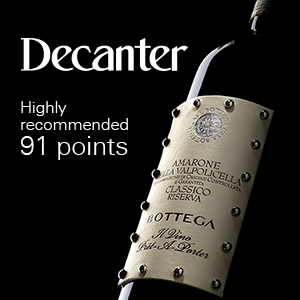 Decanter: 91 points to Amarone Prêt-à-Porter
8 May 2019
Decanter is an English wine magazine that is published monthly in about 90 countries around the world. The magazine includes industry news and tips on wines and spirits.
On January 16th, 2019, the experts Michael Garner, Andrew Jefford and Monty Waldin, conducted a blind tasting of some Amarone wines. The results were published in the May issue and our Amarone Della Valpolicella Classico Riserva Docg Prêt-À-Porter Bottega was ranked 9° with an evaluation of 91 points, equal to two other labels.
Amarone Prêt-à-Porter Bottega is made special by its 4-year aging,  making it extremely elegant, well-structured and long living. For Bottega, the American designer Denise Focil created  a fashion bottle, with an immediate impact, enriched by a  fair leather label framed by metal studs. The designer also  created a tailored leather box.
A well-structured, complex, fascinating, warm on the palate, with clear hints of spice, perfect as a "meditation wine", slowly sipped to round off a meal to enjoy all of the different hues of its complex and incredible bouquet.