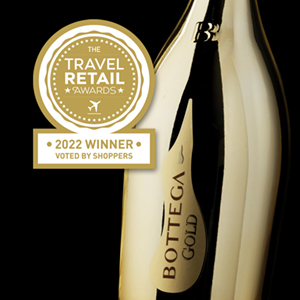 GLOBAL TRAVEL RETAIL AWARD TO BOTTEGA GOLD
18 October 2022
On the occasion of the TFWA World Exhibition, the Global Travel Retail Awards were presented in Cannes on 3 October, organised by the TRBusiness publishing group at the Hôtel Barrière Le Majestic.
Bottega Gold, the Prosecco DOC with its unmistakable golden bottle, was awarded in the 'Best wines product' category.
in This is the first and only award voted by consumers and dedicated to the travel retail sector, launched by TRBusiness in 2018, a leading publishing group in the duty free and travel retail sector, in collaboration with m1nd-set, Switzerland's leading consumer research company.
The Global Travel Retail Award 2002 is a prestigious recognition and represents further confirmation of the appreciation that the travel retail channel has reserved for Bottega S.p.A. and its range of products, from wines to spirits and liqueurs, for over 20 years.