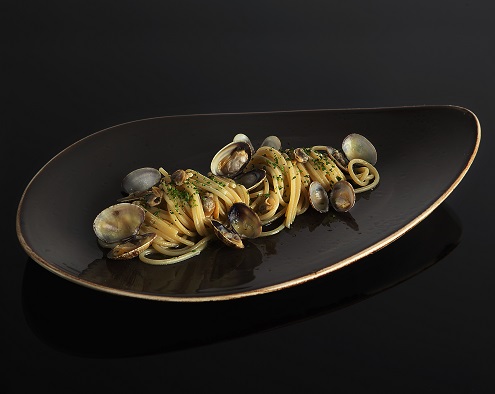 Spaghetti with vongole
29 March 2019
Ingredients:
Spaghetti 400 g
3 Garlic, cloves
1 Parsley, bunch
Clams 1 kg
Olive oil, EVO 100 ml
Black pepper, ground 2 g
Preparation:
The reparation of the spaghetti  with clams begins a few hours in advance: the clams need to be soaked for a few hours, in plenty of salted water, to allow them to purge out any grit.
Put the clams in a large pot on a high flame to make them open right away; the clams should be removed from the heat as soon as they open. Separate the clams from their cooking juice, then strain it.
In another saucepan, sauté the cloves of garlic in oil until golden brown, then pour in the clam juice and let it thicken a bit, adding some of the parsley. Finally add the clams, part of which, according to taste, can be shelled and cooked for a few seconds.
Meanwhile, boil the pasta, until al dente and serve with this delicious clam sauce, sprinkling the remaining parsley and pepper to taste.
Let finally cock the pasta in the Clams stock.
Perfect Match: Pinot Grigio Collio DOC Bottega