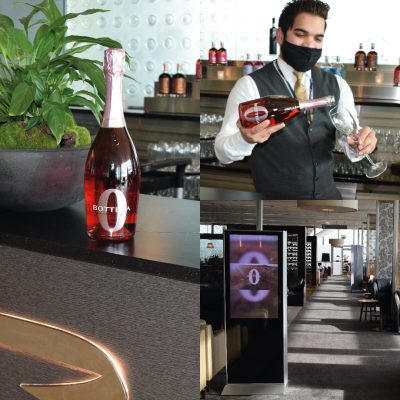 Bottega 0 Rosé arrives in the Heathrow lounge
5 March 2021
We are pleased to have our Bottega 0 Rosé served in the British Airways First class lounge at London Heathrow in February and March and our brand video displayed in the digital screens in the lounge.
Bottega 0 (zero) is a new sparkling non-alcoholic drink that is a result of the research and the passion of Bottega's enologists. They took up the challenge of innovation, in order to offer to the market a new product with a great potential.  It originates from selected grape must and it was created with the goal of satisfying the needs of those who, for health reasons or for religious reasons, do not consume alcoholic beverages. It is also appreciated by those, who like wine but adopt a cautious approach in the consumption of alcohol.
The wise dosage of carbon dioxide gives the beverage freshness, vivacity and character, despite the zero alcohol content.
We are pleased that our constant work to ensure not only an excellent product, but also an attentive service, is recognised by our customers.