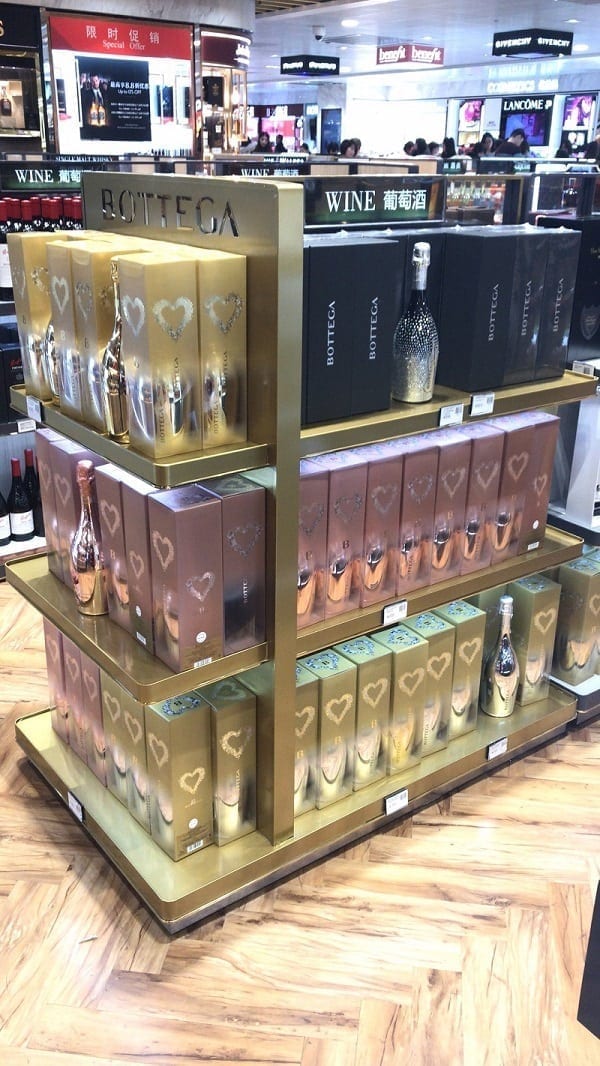 Bottega lands at Shanghai Pudong International Airport
15 February 2018
Thanks to the collaboration with the Chinese group Sunrise, our products are now the only Italian wine brand available at Duty Free stores of the prestigious Chinese Airport.
China is a difficult and ever evolving market, where Italian companies are lagging behind international competitors due to the lack of a government support in terms of economic and political relations. The wine industry is no exception and France, Australia, Chile and Spain are the undisputed leading exporting countries. Therefore, the presence of Bottega in Shanghai represents an important showcase to promote the brand in the huge Chinese domestic market.
Sandro Bottega comments: "We are already present in most Asian countries domestic markets, but this is an outstanding  commercial achievement for our company, because it is the only Italian wine brand present on the shelves of the Duty Free stores of Shanghai airport".
The range of the Bottega products sold at stores at Terminals 1 and 2 of Pudong encompasses the sparkling wines characterized by the iconic bottles (the metallized Bottega Gold, Rose Gold and White Gold and the crystals encrusted Bottega Stardust); a selection of red wines including Brunello di Montalcino and Chianti Classico; and popular spirits like Limoncino, Gin Bacûr, Pistacchio.