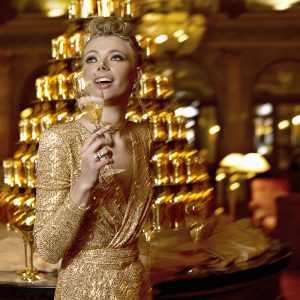 Bottega Gold: New Photo Shooting
27 February 2020
Bottega's 2020 began with a new and important collaboration with ATOMS/COLLECTIVE/IDEAS & COOLPIXEL STUDIO, whose cooperation was born from a vision of the Photographer, Videomaker and Creative Fulvio Maiani and the Digital Media Manager and Producer Stefano Jesi Ferrari.
A group of brilliant minds that orbit around an inventive core, to give both a complete service and a modern communication strategy, experimenting in visual language.
In the early days of the year we realized, together with them, a new photo shooting at the charming and elegant location of the Grand Hotel Plaza in Rome, located in the heart of the Eternal City. A magical place that encompasses decades of art and history.
The star of the photo shooting was our Bottega Gold Prosecco DOC.
Our bottle with its distinctive golden livery, the refined spaces of the Grand Hotel Plaza and the artistic creativity of Stefano and Fulvio, professionals in their field, gave life to new images that express everything that our brand and the Bottega Gold embody: style, elegance, refinement and celebration. Our concept of "Italian Sparkling Life"!