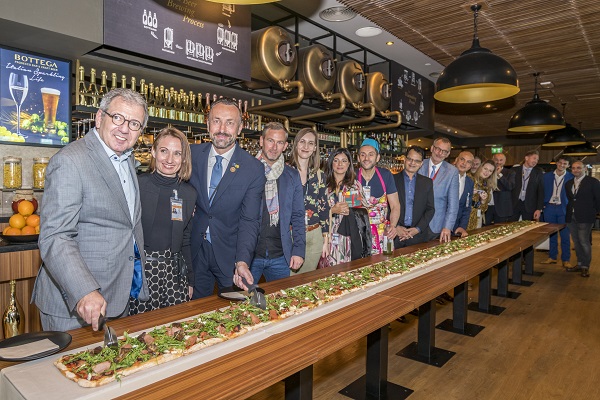 Bottega Prosecco Bar at Dubai International (DXB): official opening event
12 February 2020
On 12th February took place the official opening event of the Italian F&B concept.
The Bottega Prosecco & Craft Beer Bar and Restaurant, launched last November in Concourse A of Dubai International (DXB), is a reality with its own well-defined identity among the gastronomic offers of the world's busiest international airport.
The venue results from the partnership with global travel restaurateur HMSHost International.
The official opening event was organized by the Dubai airport to promote in the same time Bottega Prosecco Bar and other new F&B concepts, Jones The Grocer and Comptoir Libanais.
At Bottega Prosecco Bar was served the longest pizza (11 meters) ever prepared at Dubai airport. It was offered the original Italian version, with tomatos and mozzarella cheese.
After the cutting of the ribbon, Eugene Barry, EVP Commercial at Dubai Airports, Walter Seib, CEO of HMSHost International, and Claudia Gambin, Bottega Prosecco Bar global Business Development responsible, underlined the importance of collaboration and teamwork of the respective structures for the realization of the project
Deeply rooted in the Italian tradition of fine wine and food, Bottega Prosecco Bars offer a broad selection of drinks, along with traditional specialties, to be enjoyed all day in a relaxed environment. The concept was created to deliver the experience of good wine, genuine food and convivial Italian lifestyle, all over the world and in different contexts, from airports to resorts and shopping centres. The collaboration of sommeliers, chefs, architects and designers has shaped this idea, originally inspired by the philosophy of the Venetian "Bacaro": an informal tavern, where food is mainly presented as "cicheti", traditional food bites to be consumed at the counter. In a welcoming yet elegant ambiance, travellers can enjoy the "Perfect Match", the ideal combination of a glass of wine from the Bottega range and authentic Italian dishes, made with fresh ingredients.