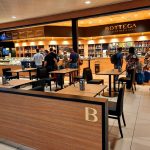 Bottega Prosecco Bar Bologna: it's time to start again!
6 August 2020
It's time to start again! Today, Thursday, August 6th we are happy to announce the reopening of the Bottega Prosecco Bar in Bologna, located in the Arrivals area of the "Guglielmo Marconi" airport.
The bar was inaugurated on September 9, 2019 as a tribute to the city in which it is located which, thanks to the gastronomic excellence of its territory, is considered the gastronomic capital of Italy.
Naturalness and genuineness are the ingredients that distinguish our format, we are waiting for you to taste together a good glass of Prosecco DOC combined with some traditional Italian dishes.