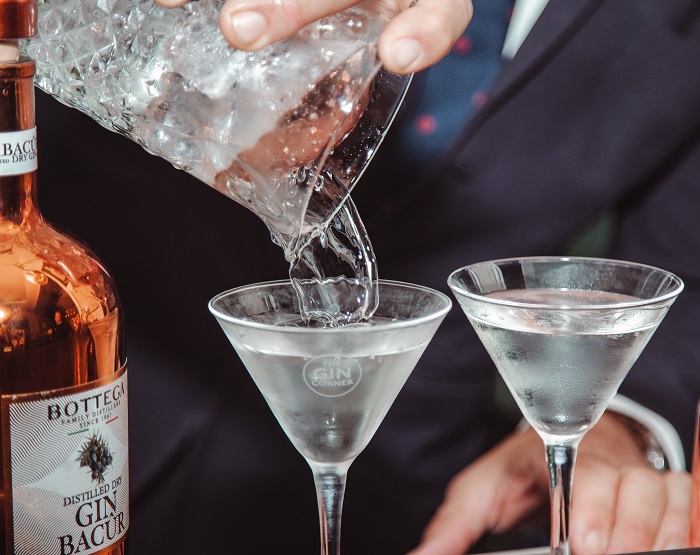 Gin Bacur Shop at The Gin Corner for a VIP event
26 June 2019
On June 26th, a presentation event of the Gin Bacur Bottega was held in Rome, at The Gin Corner, inside the prestigious Adriano hotel. Stefania Sandrelli, in the role of godmother of the event, participated in the event and presented the new distillate together with Sandro Bottega, president of Bottega S.p.A.
The evening was organised by the Martini & Friend's association, which has its headquarters in The Gin Corner and which brings together the lovers of the famous cocktail on a monthly base. For the occasion, in addition to the Martini cocktail, Gin Tonic and Negroni were served during the evening. These are the three classic gin-based drinks that allow you to recognize and fully appreciate the organoleptic characteristics of this distillate which, in recent years, has been the protagonist of an important revaluation. The event was also attended by Mauro Lotti, father of Italian barmen, and Giovanni Soldati, director and great lover of mixed drinks.
The Gin Corner, opened in 2013, is the first bar in Italy entirely dedicated to gin. It is not only a hotel bar, but a real meeting place for fans of this distillate, since the bottle behind the counter has over 120 references of gin. The bar was born from an idea of the "Gin Lady" Barbara Ricci, owner and soul of the family hotel. The team is headed by Angelo De Valeri, an experienced bartender who has worked in some of the most important bars in Italy and abroad.
Gin Bacur Bottega is a Distilled Dry Gin, with alcohol content of 40% vol, is characterized by the use of certified-origin botanicals: juniper berries from Tuscany, sage from Tri-Veneto and lemon from Sicily. Its quality and complexity depend not only on the number of botanical but also on the conditions of extraction of the aromatic components of each of them.