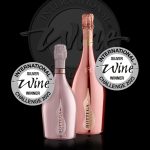 IWC 2023 – UK
Bottega Pink Gold; Bottega Rose Gold
20 May 2023
At IWC International Wine Challange, Bottega Rose Gold obtained the silver medal with 92/100 point, while Pink Gold received the silver medal with 90/100.
The International Wine Challenge (IWC) is accepted as the world's most rigorous, impartial and influential annual wine competition.
There is one annual tasting for the International Wine Challenge (IWC).
The rigorous IWC judging process assesses every wine 'blind' and judges each for its faithfulness to style, region and vintage.  The IWC judging teams include experts and influencers from the international wine industry, commercial decision makers, buyers and MWs working in unison to find the highest quality wines each year from the 52 wine-producing countries represented in the competition.