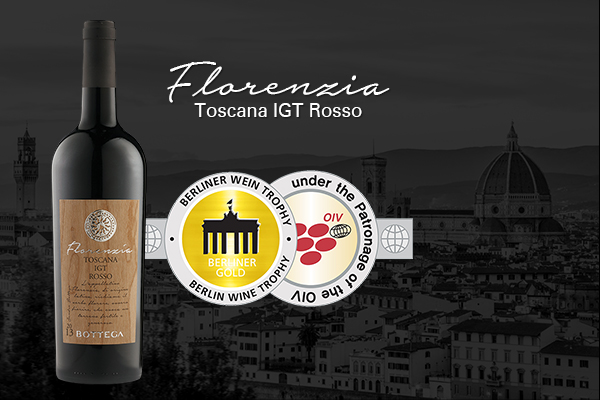 Gold Medal at Berliner Wine Trophy 2019
29 March 2019
We are proud to announce that our Florenzia Rosso IGT Toscana won the Gold Medal at the Germany's most important competition, the Berliner Wine Trophy. This is one of the main international wine competitions in which the tasting takes place behind closed doors and lasts four days. A jury composed of experts in the field evaluated the more than 5000 products in the competition and, after a blind tasting, classified them by awarding them the coveted prizes.
Among the many labels that participated in the 2019 edition, our Florenzia got recognition by capturing the favor of the jury.
IGT Toscana was created  in 1995 and includes the provinces of Arezzo, Florence, Grosseto, Livorno, Lucca, Massa Carrara, Pisa, Pistoia, Prato and Siena. IGT TOscana takes its name from the land in which it extends, Tuscany, one of the symbolic regions of Italian enology, a territory characterized by a great wine-growing vocation and a millenary tradition.
It is precisely in these areas that, from the union of an autochthonous vine, Sangiovese, and international vines, Cabernet Franc, Cabernet Sauvignon and Merlot, Florenzia is born, a robust wine, with great character and personality. The nose is intense, with strong aromas of red and black berries, characterized by pleasant and delicate spicy notes, and an elegant hint of violet in the finish.
Florenzia is a perfect match with cold cuts, particularly from Tuscan tradition, first courses with meat sauces, roasts, roasted game and tasty cheeses.
We also like to recommend it as a meditation wine.