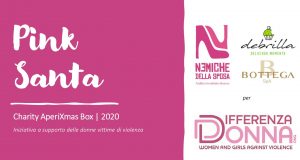 PINK SANTA – APERIXMAS BOX
10 December 2020

Bottega, always on the same side as women, supports the initiative PINK SANTA – APERIXMAS BOX: the Christmas drink that makes a difference!
Buying a Pink Santa – AperiXmas Box of Nemiche della Sposa we help to support women coming out of violence. In fact, for every Box purchased, a part of the proceeds will go to support the projects of the Differenza Donna Association. An Association founded in Rome in 1989 with the objective of bringing to light, knowing, fighting, preventing and overcoming gender violence.
Unfortunately, violence against women is still today a social problem of worldwide proportions. Differenza Donna is committed to overcoming violence in Italy and in every country.
Bottega has always been very sensitive to this issue and it is for this reason that we proudly support this initiative.

For more information visit the Differenza Donna website  https://www.differenzadonna.org/regali-solidali/.