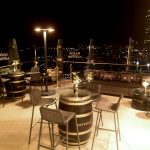 Another great Prosecco Bar opening makes the month of May shine for Bottega: last Monday 17th May, the Bokan in London, Bar with terrace on the 39th floor of the 5-star flagship hotel of the Accor group – the first group in the world of hotellerie – reopened under the name of Bottega.
With the formula "Bottega Terrazza @ Bokan" this beautiful bar with a panoramic terrace overlooking the capital of England has reopened. For this location, a 3-theme set-up has been designed, reflecting 3 of our great sparkling wines: Bottega Gold Prosecco DOC Brut, Bottega Stardust Prosecco DOC Dry and Bottega Pink Gold Prosecco DOC Rosé.
A toast to these new re-openings, which bring great satisfaction and hope for a sparkling future!