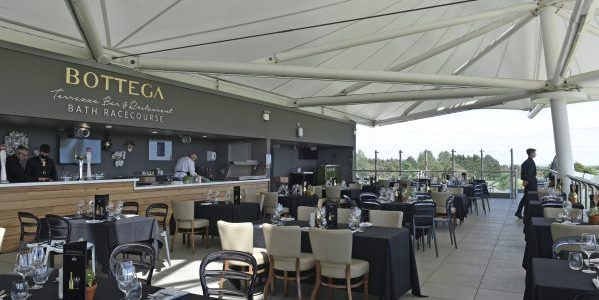 Prosecco Bar: New Openings at the british Racecourses of Windsor and Bath
31 May 2021
Bottega resumes with renewed enthusiasm the Prosecco Bar project and announces two prestigious openings in May at the English racecourses of Bath and Windsor. These are two Bottega Terrazza Bar & Restaurant, as they are elegant outdoor spaces where you can watch the horse races and sip a glass of Prosecco, accompanying it with a selection of tasty Italian dishes. They are complemented by the Bottega Garden Bars, which are more agile structures, limited to drinks.
The two openings are of great value, as after a stall of over a year, they are the first since the start of the pandemic.
Gallop races are an integral part of English and English-speaking countries' traditions, and for the enthusiastic spectators they are a ritual with a long duration, thus representing the ideal context for promoting the culture of Italian wine and food.
Sandro Bottega, President of Bottega S.p.A., says. "We have always loved horse racing and the people who are part of this beautiful world, where everyone loves nature and animals. All this is closely linked to the unbreakable commitment to sustainability that our company has been having for so many years. These are core values both in our business and in our everyday lives, and the reason to raise a glass is not to win but to be part of it. ARC is a great organisation to which we have dedicated all our efforts, realising two great projects: Bottega Terrazza Bar and Restaurant & Bottega Garden Bar. We are confident that they will be a success."