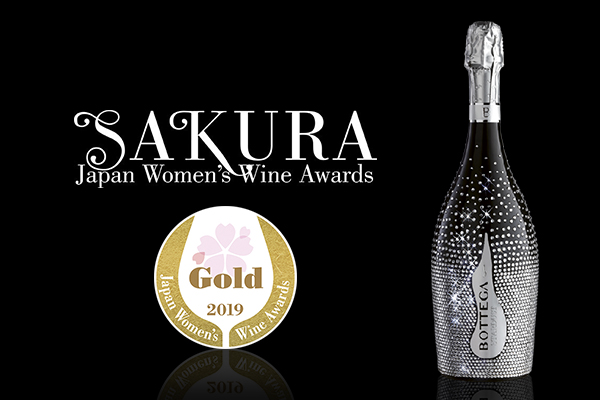 Sakura Japan Women's Wine Awards 2019
6 March 2019
We are proud to announce a great new result for Bottega Stardust, which won the Gold Medal at the 6th edition of the international competition "Sakura Japan Women's Wine Awards 2019″.
The competition was held on Tuesday 29th and Wednesday 30th January in the city of Tokyo.
More than four thousand labels from all over the world were submitted to the competition.  They were judged by an all-female jury made up of the most important professionals in the wine sector.  This is a unique case, in fact Sakura is the only competition in the world to have a committee of women only.
This is not the first time that this prestigious competition rewards our products, already in the last edition we obtained two gold medals for the wines Bottega Rose Gold and Il Vino dell'Amore Petalo Moscato Bottega.
Bottega Stardust is a Prosecco DOC, obtained from the vinification of Glera grapes, cultivated in the hilly areas of the province of Treviso.
This wine has a typical and elegant bouquet, with fruity notes such as apple, pear, peach and citrus and floral notes such as acacia, wisteria, lily of the valley and a delicate final note of rose. In the mouth it is harmonious, refined, persistent and has a good balance between structure and pleasant mineral notes.
Excellent as an aperitif, it goes particularly well with refined dishes of poultry, shellfish, especially with lobster, sushi, fish crudités, but also with pastries and desserts in general.
The effect "stardust" makes especially shining the moment  of the aperitif and of the toast.