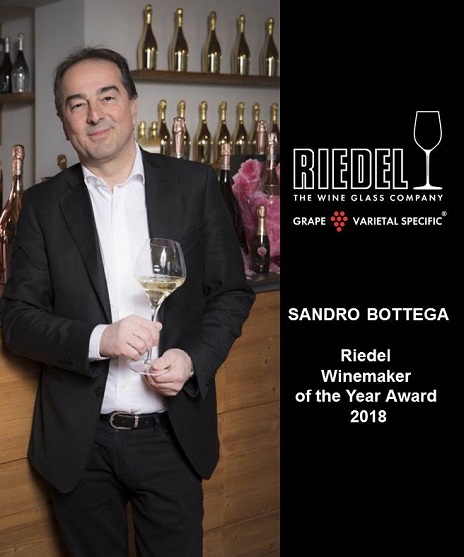 Sandro Bottega awarded Riedel Wine Maker of the Year
1 May 2018
Last Monday, 30th April, Sandro Bottega has received the award from The Cambridge Food & Wine Society, on behalf of Riedel, the Austrian manufacturer renowned for designing and producing high quality glasses and decanters for wine and spirits tasting, for over 250 years and 11 generations. The ceremony, held at historical Biagio Ristorante in Toronto.
The Riedel® Winemaker of the Year Award is granted to Sandro Bottega for "having enchanted wine and gastronomic art lovers since 1977, in over 120 countries worldwide, with his artistic skills, the entrepreneurial ability and energy, and the quality and genuineness of the products".
Sandro Bottega commented: "I feel deeply honoured and grateful, and I dedicate this prestigious recognition to my parents and to the whole company who has worked with creativity, passion and humbleness to produce wines, grappa and liqueurs, always in compliance with the corporate values: Quality, Design and Social Responsibility towards the environment and the community".