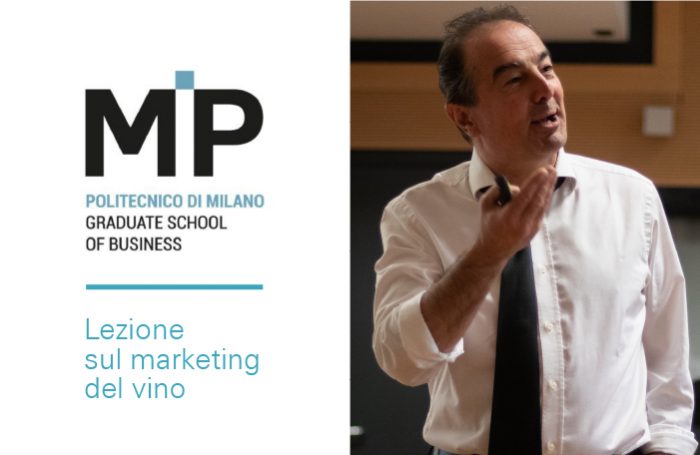 Sandro Bottega speech at the International Master in Luxury Management at MIP
23 May 2019
On May 9th 2019, Sandro Bottega, Managing Director of the company, was the protagonist of a speech dedicated to wine marketing within the International Master in Luxury Management of MIP, Politecnico di Milano.
The International Master in Luxury Management is a training program organized by MIP Politecnico di Milano, whose main objective is to train professionals able to fit into the key positions of luxury companies that, for their specificity, require special knowledge, skills and creativity.
Sandro Bottega, during his speech, touched on many themes. He started with a general presentation of the company to allow the audience to frame the reference context. Then he went into the master arguments which were of particular interest to the audience, especially those about wine marketing.
For Bottega, in fact, innovation in terms of product, packaging and communication has always been a driver of evolution and change. Understanding market trends in advance allowed the company to catch opportunities over time and therefore grows continuously over the years. According to our CEO, the central point of Bottega's success was undoubtedly the Made in Italy added value. Another important element for him, he explained to the students, was the "Glocal" approach: thinking globally having the local roots clearly in mind.
The students followed the speech with great interest and curiosity intervening with their own reflections and questions. The program structured by the Politecnico di Milano offers students the opportunity to get in touch with key-players in the luxury sector, and to deepen various aspects through Business Seminars, Testimonials, Company Visits and Project Work. In each edition, the classroom is composed of young talents from all over the world: Europeans, Asians, Americans and more. Also in this edition, the classroom was composed of students from all over the world, confirming the validity of the training program of the Italian University.