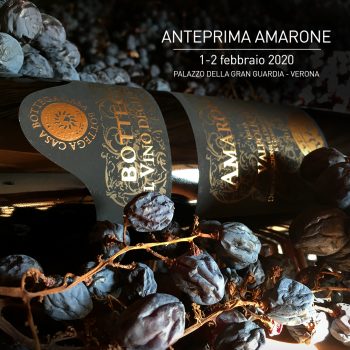 Anteprima Amarone 2020
24 January 2020
It's time for the "Anteprima Amarone": the first weekend in February will be dedicated to the annual event organized by the Consorzio per la Tutela dei Vini Valpolicella.
Two days in which the only real protagonist will be the "Great Red of Valpolicella": Amarone.
Amarone DOCG,  the noblest red wine of Valpolicella and one of the most  important Italian wines, has seduced the most refined palates  worldwide, thanks to its inimitable personality, its charm and  its character of traditional yet modern wine.
During the event the new vintage of this wine will be officially presented to the press, operators and enthusiasts of the sector.
Over 50 producers will attend the event to tell their Amarone della Valpolicella 2016 and a historical vintage of their choice. As every year Bottega renews its presence at "Anteprima Amarone", the tasting will include Il Vino degli Dei Amarone della Valpolicella Classico DOCG 2016, a wine of great structure, balance and softness, and Il Prêt-à-Porter Amarone della Valpolicella Classico Riserva DOCG 2014, which is made special by its 4-year aging, making it extremely elegant, well-structured and long living.
We look forward to seeing many of you together to enjoy the pleasures that only this noble wine can offer.