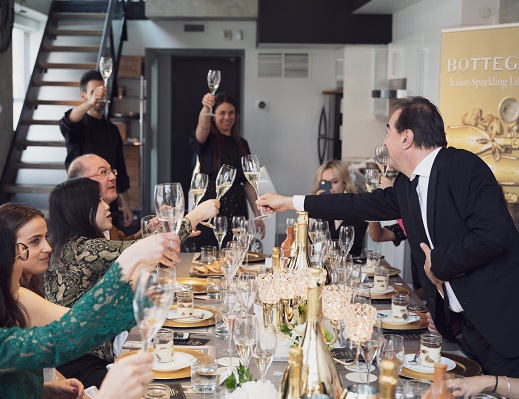 Bottega Gold is now present in the shops of the LCBO alcohol Canadian liqueur board
15 June 2019
Bottega Gold, Prosecco DOC, from April 2019 is available in continuous purchase in all shops of alcohol Canadian liqueur board in Ontario.
Before this date, our Bottega Gold, the most famous product for our company, was only available during the holidays period. Given the excellent results obtained during these periods and the great demand from the final consumer, the liqueur board of the Ontario Canadian state decided to include Bottega Gold as a product available all year long.
In order to communicate this important news to the customers, to press and fans we organized events that were held in Toronto last May 29th .
During this day we organized several moments in which our President Sandro Bottega met wine lovers, journalists and bloggers.
The moment dedicated to the latter was the most informal one in which Bottega Gold was presented not only as our flagship product but it was a time to make people understand its versatility. During the event, Bottega Gold accompanied different types of Italian cuisine and other kind of cuisines and was also used in cocktails such as the famous Bottega Spritz.
Participants had the opportunity to learn more about not only Bottega Gold but also the company and appreciate how our Prosecco DOC is a product suitable for different contexts and consumption moments.