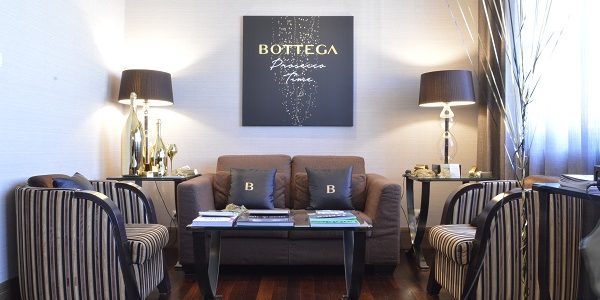 Bottega Gold Suite at Allegroitalia Torino Golden Palace
31 May 2019
Last May 15th, we inaugurated the Bottega Gold Suite with a great event in which Turin jetset, the most fashionable young people and trendsetters of the city took part.
We chose to create a suite at the Golden Palace Hotel in Turin because it seemed like a natural union with the philosophy of the hotel that conveys the values of joy, art and love. This suite tells the whole story of Bottega Gold, that is a lifestyle product with a high emotional content, just like the Allegro hotel. It's a great honor for us to be part of these suites customized with other big names of Made in Italy industry.
Our president and managing director Sandro Bottega always says that "an excellent wine deserves an excellent dress". For this reason we have thought of a special and unique dress for Bottega Gold. The idea behind the customization project of the Bottega Gold suite is to communicate the essence of the product: its elegant and sophisticated style without being excessive and the great quality level.
The first principle is concretized in some elements of furniture that the guest can find in the living room. The bottles become elegant complements able to enhance the environment thanks to the particular mirroring that distinguishes the bottles in all their different sizes.
The bathroom is the place dedicated to intimacy and to taking care of oneself. It is a particularly suitable place to be embellished because more than any other it tells us that we are worth that care for ourselves. For this reason, the mirror has been enhanced with the unmistakable Venice skyline in gold finishing. The preciousness of Venice and its gold, which inspired us in the creation of Bottega Gold, will be a source of inspiration for anyone who looks in the mirror. Even the bathtub with its decorative bubbles will make guests dream of a real Prosecco bath.
We have studied the bedroom to underline the quality of Bottega Gold Prosecco and the principle of neutrality that animates our company.
Vine shoots that come out of bed and go down on the windows welcome suite guests in combination with the image of one of our vineyards in the DOCG Conegliano-Valdobbiadene area.  Some jars placed on the chest of drawers at the bed foot let guests approach Bottega Gold in a sensory way: each jar in fact offers a scent that characterizes our Prosecco such as for example green apple and white flowers.
Last but not least the bar area: each guest  can become a real bar tender trying Bottega Gold in combination with other Bottega products. Bottega Spritz or Bottega Bellini are just few examples of the cocktails that guests can make themselves.