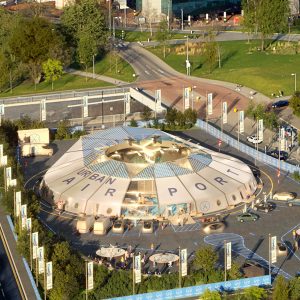 BOTTEGA AS A SPONSOR AT THE OPENING OF THE FIRST URBAN-AIR PORT VERTIPORT
15 April 2022
Urban-Air Port (UAP) is a UK-based startup that has been building its first vertiport, a hub for flying taxis and logistics drones, in Coventry.
UAP main objective is to create sustainable logistics solutions to reduce road traffic. With this new opening, UAP is getting ahead of the curve for the next wave of logistics and infrastructure. Less cars on the roads means more sustainable connectivity between cities. Inside the Air-One – as the Coventry vertiport is named – there will also be physical shops, to diversify revenue. The presence of a retail offer is an integral part of UAP's business idea.
Rethinking the future and making it more sustainable is a theme that is also relevant to Bottega, so the collaboration with UAP was an opportunity to be seized. Bottega will therefore be present on 27 April 2022 in Conventry during one of the many events planned. Bottega Gold Prosecco DOC, the flagship product of our brand, will be served.
This is a starting point, a new way of thinking about transport, logistics and also travel retail. Future is now.
Photo credits: ©Urban-Air Port Ltd. All rights reserved.