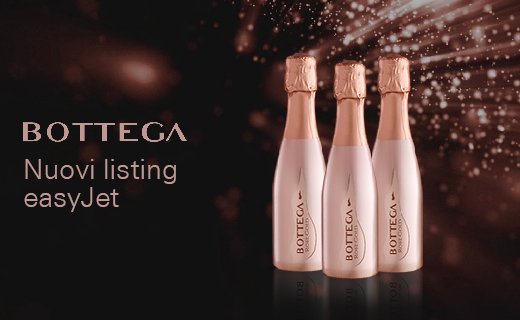 EasyJet: Bottega Rose Gold is on board
15 January 2019
The Bottega Rose Gold 20 cl has been listed in the "Buy on board" menu of EasyJet.
This collaboration has been going on for years. Since 2016, in fact, we have been on board the British company's aircraft with our 20 cl Bottega Prosecco Gold 20 cl.
After this first product, the airline company has included in other customer catalogues  also the 75 cl version of the metallic bottles: Prosecco Bottega Gold and Bottega Rose Gold.
The 20-cl bottles are a perfect and ideal size for the buy-on-board menu for both end-consumer and the airline staff. In fact  the small bottles are single-portion but thanks to its 20 cl it is a little bit more than the classic glass of wine. At the same time, this product is particularly easy to manage for flight crew who can serve customers quickly and this is an important characteristics for low-cost airlines such as EasyJet, which operate short-haul routes so they have to be quick in serving all customers.
We are happy that our constant work to ensure excellent products and careful service, is recognized by our clients.
EasyJet was founded in 1995, and it is now the third largest low cost airline in the world (after the American Southwest Airlines and the Irish Ryanair). It based at London-Luton airport with 26 bases spread throughout Europe, including Milan-Malpensa and Venice in Italy.
Italian sparkling wine, in its various types, has been recently the protagonist of a significant growth in different sales channels and has been able to increase progressively in the airlines market channel too. We are particularly involved in this, as the Bottega brand is listed in lots of airlines.
The airline market for us is constantly growing and evolving and we expect great satisfaction in the coming years, just as EasyJet is doing.