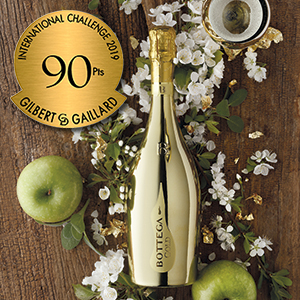 Gilbert & Gaillard: Gold Medal to Bottega Gold Prosecco DOC
19 April 2019
We are proud to announce that our Bottega Gold Prosecco DOC has been included in the prestigious French guide Gilbert & Gaillard and won the Gold Medal.
Gilbert & Gaillart guide is a an essential point of reference for professionals and wine lovers from all over the world. This guide wants to promote and recommended quality wines.
The Gilbert & Gaillard group was founded in 1989 by Philippe Gaillard and François Gilbert in France, and today is present in 22 countries, including Italy.
Philippe comes from a family of winemakers, after his oenological studies he was commercial director of an important group of French wine distribution.  Françoisis a doctor of geography, specialized in the study of the various wine terroirs.
Bottega Gold is a Prosecco DOC obtained from the vinification of Glera grapes. The elegance, freshness and vitality of its bubbles reflect the beauty and tradition of the territory from which it originates.
A wine with a refined bouquet with typical fruity notes and characteristics of Prosecco, in particular the scents of green apple, pear, and citrus. It has flowers, sage and spices notes too.
On the palate it is soft, harmonious and elegant. Bottega Gold Prosecco Doc is a wine that is appreciated for its freshness and versatility.
It's excellent as an aperitif, but also with light dishes of the Italian tradition and not only.
Also suitable for the preparation of cocktails, such as our Bottega Spritz, a fresh and soft cocktail.