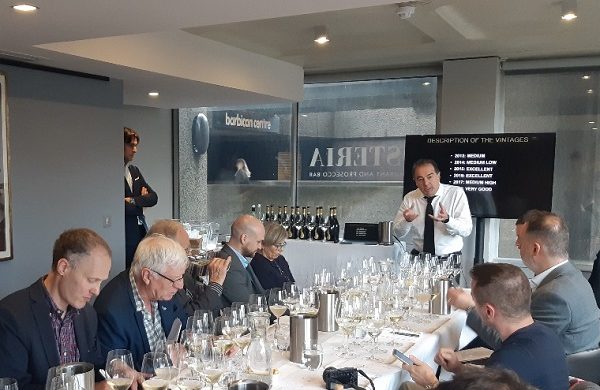 London: Prosecco Vertical tasting at Barbican Centre
13 June 2019
On 13th June, a vertical tasting of Prosecco dedicated to the English press was held in London at the Osteria London in the Barbican Centre. Participants at the event appreciated the evolution over time of the vintages being tasted of Il Vino dei Poeti Prosecco Doc Brut.
The term "Vertical" is used in oenology to define a tasting in which you taste a single wine, from the same producer, but from different vintages, to verify the wine evolution during the years and the differences between one vintage and another.
Bottega's main ambition is to demonstrate that a good Prosecco can have a longer shelf life than the usual two years. For this reason we organized this Vertical tasting.
On this occasion, was also presented our new wine: Bottega Ancestral Brut Nature Sparkling Wine. It's characterized characterized by almost no residual sugar and a strong and authentic flavor thanks to its humble roots. The term "ancestral", in fact, refers to an ancient and traditional technique that dates way back and has been passed down through generations to the present day.