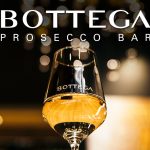 PROSECCO BAR SHOP: THE FIRST REOPENINGS OF THE PROSECCO BAR
5 July 2020
Bottega Prosecco Bars, like all public establishments in the world, have been heavily penalized by the long lockdown and the consequences of the Coronavirus. The closure was immediate in accordance with the provisions of the various countries and the WHO.
In view of a progressive and modulated reopening, the Bottega company, in agreement with its partners with whom it shares the project, has developed a security protocol that draws in part from experience in hygiene management both in the cellar and in the distillery.
In particular, the staff will receive specific and detailed training on the subject, which will become a primary part of the training and will be repeated periodically. Each table will be sanitized in front of the customer from time to time, before they sit down. Each room will be equipped with a dispenser with sanitizer available to customers. The staff will wear the protective mask.
Among the first reopenings we have the Prosecco Bar of Malpensa, realized in collaboration with Chef Express. A format designed to offer a restaurant where quality and speed of consumption are combined with a selection of wines and spirits.
In addition to Milan, the Bottega Prosecco Wine Bar located at the FFSS Station, Belluno and the Prosecco Bar on board the prestigious Viking Line Cinderella, which has recently resumed part of its routes, have also reopened.
Sandro Bottega, president of Bottega S.p.A. declares: "Once the emergency is over, Bottega Prosecco Bars around the world will continue to be a window on Italy, in the sign not only of excellent food and wine, but also of a culture of sustainability, respectful of nature and the environment. After this difficult moment, the first newly opened structure will be dedicated to Antonio Palazzi, who passed away a few days ago, in order to remember a great restaurateur of the Prosecco lands, an unmatched professional and a refined connoisseur of the ritual of hospitality".