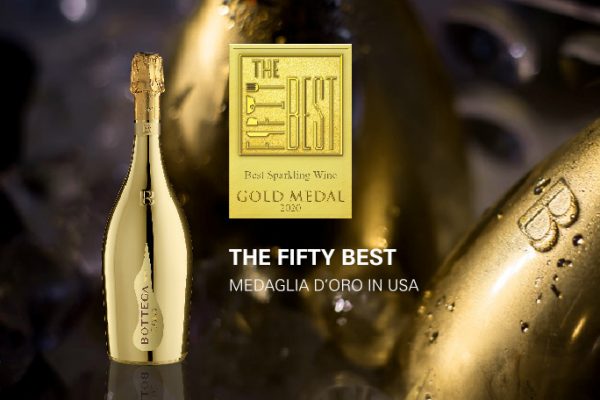 THE FIFTY BEST: GOLD MEDAL FOR BOTTEGA GOLD IN US
18 July 2020
We are proud to announce a new result for the Bottega Gold Prosecco Doc Brut which won the Gold Medal at the tasting of "The Fifty Best", the US digital guide dedicated to wines and spirits.
The competition was held in New York City. The wines were judged by a jury composed of wine journalists, sommeliers, wine and spirits retailers, mixologists, wine consultants and connoisseurs who tasted the products strictly blind.
This is not the first time that this competition awards the Bottega Gold Prosecco DOC, in fact already in 2018 our Glamour sparkling wine won the same prize. A great satisfaction for us and for our oenologists who follow every Bottega product with extreme attention and passion: from the vineyard to the bottling, every moment of making a product is followed with artisan care.
Bottega Gold is a Prosecco Doc obtained from the vinification of Glera grapes. The elegance, freshness and vitality of its bubbles reflect the beauty and tradition of the territory from which it originates, embroidered from the vineyards, capable of distinguishing itself for its physical and geographical forms, where the vine has taken on a central role for centuries.