Sambuca
Star anise liqueur
Sweet and intense, this liqueur has a unique taste which satisfies even the most demanding  palates, in an elegant and intriguing packaging. Anise is an aromatic plant, native of the Middle East. The star anise  variety, whose name comes from the star shape of its fruits, is richer in  fragrant compounds and therefore particularly suited for the production  of this liqueur. Its essential oil is the precious main ingredient for  Sambuca Bottega. When mixed with alcohol, water and sugar, it creates  a dense, velvety liqueur with a great character, appreciated both for its  pleasant taste and for its refined bouquet.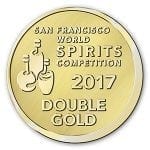 Bottles per carton: 6
Cartons per pallet: 64
Bottle weight (gross): 1.3 Kg
Bottle size: 12.6 x 32,6 x 5.5 cm
Carton weight (gross): 8.5 Kg
Carton dimensions: 26.6 x 33.5 x 18.5 cm
Organoleptic Characteristics
Color and Appearance
Colorless, crystal clear.
Bouquet
Intense and persistent aroma of anise, with delicate floral notes.
Taste
Fresh, harmonic and full, it is characterized by an unmistakable taste of anise.
Serving Temperature
-5° C
Serving Suggestions
Perfect after meals, it can be served neat, chilled, with a "fly" (with the addition of coffee beans), or with espresso, making it a caffé corretto.
Recommended glass
Tumbler
Share Product