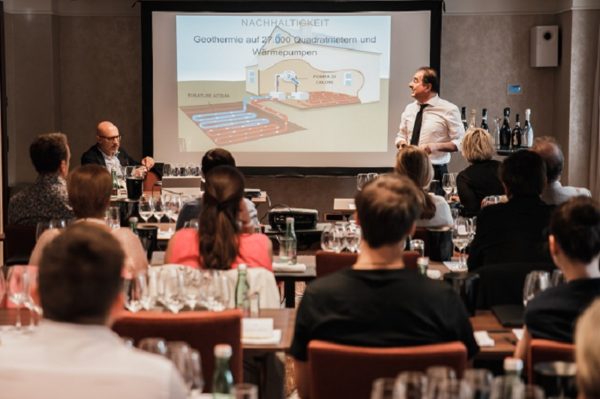 Vienna: Bottega event by Falstaff
6 June 2019
Last June 6th, together with Falstaff, the Austrian magazine specializing in food, wine and travel, we organised an event at the Kempinski hotel in Vienna, the luxurious historic building designed by the famous architect Theophil Edvard Hansen.
Wine enthusiasts, buyers and experts of the sector took part at the event, in total more than 100 important people from the Austrian wine world.
The first part of the event was dedicated to a guided masterclass, in which guests could appreciate the elegant bubbles of Bottega sparkling wines. The tasting included Il Vino dei Poeti Prosecco DOC Brut, Bottega Gold Prosecco DOC,  Prosecco DOC Bio, Il Vino dei Poeti Prosecco Superiore Valdobbiadene DOCG Extra Dry, Prosecco Superiore DOCG Rive di Farra di Soligo Dry,  Bottega Stardust Prosecco Dry and the new entry of Bottega: Il Vino dei Poeti Ancestral Brut Nature.
After that, an aperitif was organized, followed by a buffet dinner. The aperitif was open to public and other wines from the Bottega range were offered.
ll Vino degli Dei Amarone della Valpolicella DOCG Bottega has been very much appreciated by the guests. It's a wine of great body and structure.